SHAO-LIN KUNG-FU
Tracey has been training in Tai Chi, Chi Kung and Kung-Fu at the Chinese Shao-Lin Center in Denver since 2011. She earned her certificate in Tai Chi Ch'uan in 2012 and continues to train towards her Black Belt in Shao-Lin Kung-Fu while enjoying all the extra benefits of this rich art. Shao-Lin Kung-Fu is a 1500 year old martial art system developed by the Shao-Lin Monks at the Honan Temple for health, meditation, physical and mental conditioning, overall fitness and self defense. Breathing techniques are taught, as well as many various internal and external forms. In addition to improved balance, flexibility, strength and coordination many techniques and strategies for self defense are incorporated which aide in increased confidence and self awareness.
Tracey was excited to join her Shao-Lin group as they traveled to Tibet during the summer of 2015. They toured the Potala Palace in Lhasa, the former home of the Dali Lama and the Jokhang Temple, the 1st Buddhist Temple in Tibet, among others. Traveling on to China they visited Leshan and saw the worlds largest seated stone Buddha built in the 8th century. They climbed O-Mei Mountain and the Sacred Taoist Hua Mountain before moving on to visit the historical Shao-Lin Temple. The group was privileged to have an audience with the Shao-Lin Head Abbot and received a talk on the "Importance of Compassion."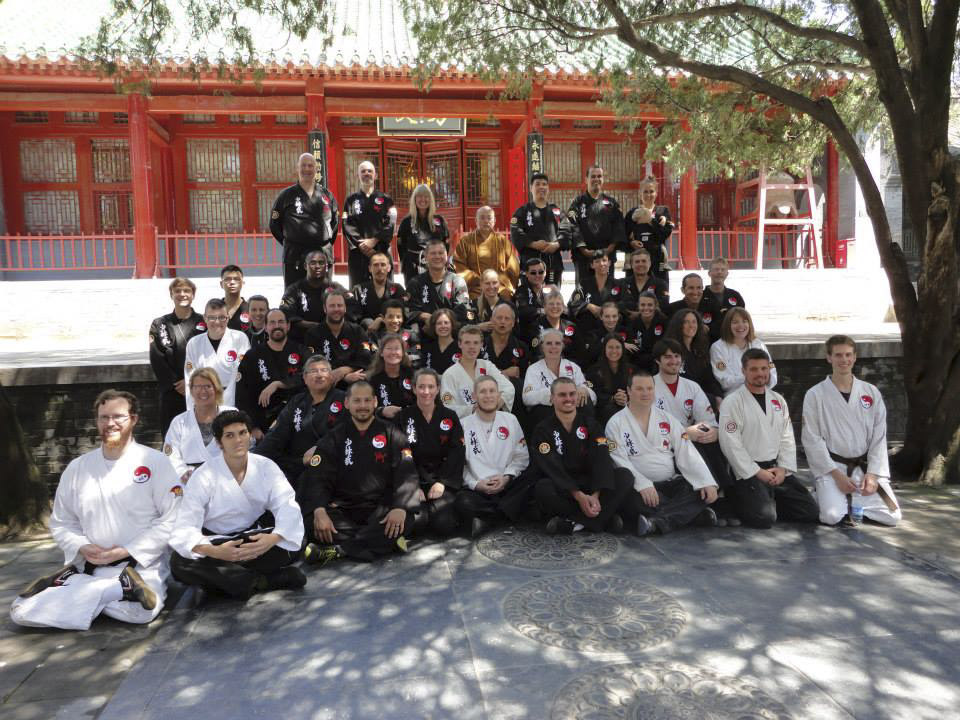 AWARENESS YOGA THERAPY
Tracey offers a unique blend of private one on one-yoga therapy sessions. Awareness Yoga Therapy offers an option to explore the deeper relationships between the body, mind, heart and emotions. Combining classical yoga postures, guided breath work, gentle acupressure points and a simple non-directive mind-body dialogue, Awareness Yoga Therapy promotes the release of tension in the physical and mental bodies while releasing energy to create more awareness in your life. Awareness Yoga Therapy is a great adjunct to Five-Element Acupuncture or other types of therapies.
Wellness on all levels begins with awareness. Awareness of where you are now, what you are feeling and experiencing in your self and where you would like to be in your body, mind or spirit are just some of the benefits of an Awareness Yoga Therapy session. Integration, grounding and bringing the awareness's that arise in your session back into your life are an integral part of the process.
Sessions are approximately 1.5 hours and fully clothed. No previous yoga experience is necessary. No matter what body type, physical condition or state of health, you can benefit from an Awareness Yoga Therapy session.
Please call or Email for more information regarding your personalized Awareness Yoga Therapy Session.
AWARENESS YOGA
Tracey's unique style of Awareness Yoga brings consciousness into the breath, body, movement and stillness of a gentle, yet deep yoga practice, which is accessible for all ages, shapes and sizes. Tracey is available for private or group sessions. Please see Workshop page for current yoga schedule, yoga dance dates, classes and events.
YOGA DANCE
In March of 2010, Tracey realized a dream of becoming a Kripalu Yoga Dance Instructor when she attended the Kripalu Yoga Dance Teacher Training: Chakra Fusion Level 1. Since her first visit to the Kripalu Center for Yoga and Health in 1998 Tracey vowed to come back to take this class simply to have fun and dance. After many years of exploring the depths of body, mind and spirit healing, Tracey was ready to bring together her love of music, movement and yoga to have some fun and dance, dance, dance. Kripalu Yoga Dance explores the dance of your own creativity while exploring the seven chakras along with the beat of fabulous world music.
Yoga Experience
Tracey's love and passion for exploring the deeper relationships between the body, mind and spirit led her to study and teach yoga and yoga therapy for many years. After moving to the beautiful State of Colorado she taught Awareness Yoga at the Institute of Taoist Education and Acupuncture while finishing up her Masters Degree in Classical Five-Element Acupuncture. At the Geffen Cancer Foundation in Vero Beach Florida from 1999-2003 Tracey taught a very gentle, loving heart centered style of Hatha Yoga, while also offering private Phoenix Rising Yoga Therapy sessions to the patients. Tracey continued to provide private Phoenix Rising Yoga Therapy sessions throughout her Holistic Nursing career to patients, their families, loved ones and caregivers in the community.
Kundalini Yoga International Level 1 Instructor
Kundalini Yoga School, Altamonte Springs, FL Certification – 2003
As Taught by Yogi Bhajan, Awarded by The Kundalini Research Institute
Consisted of 220 Hours in Teaching Kundalini Yoga Postures, Kriyas & Meditation, Role of a Kundalini Yoga Teacher, Yogic Philosophy & the Origin of Kundalini Yoga, Yogic & Western Anatomy, Humanology & 3HO Yogic Lifestyle.
Phoenix Rising Yoga Therapy
Lenox, MA Certification – 1999
Program consisted of 650 Hours of Assisted Asana Technique, Therapeutic Dialogue, Body/Mind Integrative Techniques, Applied Anatomy, Ethics, Establishing Practitioner-Client Relationship, Literature Review and Reports, Self, Peer and Supervisor Assessments and a 48-Session Supervised Practicum.
Kripalu Holistic Health Teacher Training
Lenox, MA. Certification-1998
Education consisted of 162 Hours of professional training at the Kripalu Center for Yoga and Health in Stress Management, Body Movement and Yoga, Meditation and Spiritual Attunement, Communication, Conscious Eating and Diet, Practice Teaching and Promotional Skills and Professional Practice.
The Yoga Studio Hatha Yoga Teacher Training
Vero Beach, FL Certification–1998
Yoga training program consisted of 400 Hours of extensive practice in Asanas, Pranayama, Relaxation Techniques, Teaching Methodology and Student Teaching.